Divorce Mediation in Worcester, Leominster, Fitchburg, and Shrewsbury
I am a divorce mediation lawyer with a practice that is 100% mediation. I have helped over 1600 Massachusetts couples get divorced without fighting in court and hiring expensive litigation lawyers.
When I meet with you, I educate you about MA family law in Worcester County and the decision points for divorcing couples; I explain to you how divorce court looks at finances, and I lay out your financial options with crystal clear numbers; and I guide your conversations in this difficult time so that the two of you can make the many practical decisions that will be written into your separation agreement.
Within a day of our first meeting, I prepare an initial draft of all court documents, including the separation agreement so that you have a complete overview of what your divorce and post-divorce life could look like. We finalize the documents at a second meeting, and then mail them to Worcester Family and Probate Court, where you will have a brief, 10-minute hearing that the court schedules 1-3 months after they receive your documents.
I do the vast majority of my work through Zoom—you do not need to Google "divorce mediator near me" in Worcester, Shrewsbury, Fitchburg, or Leominster, or in the smaller towns such as Milford, Westborough, Gardner, or Grafton—I am as close to you as your smartphone or computer, regardless of where you and your spouse live in Worcester County.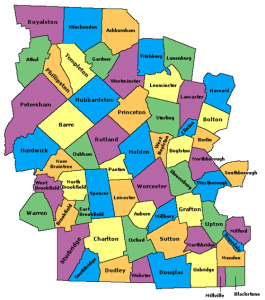 I am an active divorce mediation lawyer. That means that I actively give you guidance and abundant legal information so that the two of you are in a position to make the decisions that divorcing couples must make and that I write into your separation agreement.
Couples who are divorcing are typically experiencing conflict; they have limited knowledge of legal parameters of Massachusetts divorce law; and they are not accustomed to thinking of their finances in the ways that a financial mediator or court will see them.
I help you overcome these obstacles through clear explanations and gentle, empathic guidance. When you are stuck, I suggest solutions that can work for both your priorities, and I share options that have worked for other couples from among the hundreds with whom I have worked.
I graduated with honors from Brown University and from a top-5 national law school, the University of Pennsylvania.
Call me at 508-365-9608 to learn more about how divorce mediation can save you time and money and help you begin to move forward in life. 
I encourage you to explore pages on this website to:
What are advantages of divorce mediation in Worcester?
Compared to hiring lawyers and fighting in probate court, mediation is:
Much faster. Fighting in court generally means that your divorce will take two years or more. With mediation, the Worcester County family court judge will be signing your agreement in less than five months. Most of this time is simply waiting for a court hearing. You will have your separation agreement—which gives you a path forward—as quickly as a few weeks from your first meeting.
Much more affordable. Divorce mediation in Worcester typically ranges in cost from $1500 to $4500, depending on how complicated your assets are and whether you have children. This is total costs, shared by both parties. Contested cases start at $5000 each, and quickly exceed $10,000 each if there are significant issues to resolve.
Less adversarial. In mediation, you work together, customizing you separation agreement to the particular needs of your situation or family. You are the designers of your agreement, not a judge who does not have time or energy to understand your family's particular needs and priorities. If you have children, it sets you on a path for civility in your post-divorce parenting.
More private. In contested cases, the details of your finances and personal lives can be discussed in court. With mediation, the contents of your agreement are not made public.
What are disadvantages of divorce mediation in Worcester?
Divorce mediation does not work as well if one spouse dominates the other in their lives, and if the less powerful spouse is not able to speak up for themselves in the mediation sessions. This can result in an agreement that favors the dominant spouse. Since the mediator remains neutral, they cannot take the side of the less assertive spouse and advocate for that spouse.
An active mediator can, however, create and maintain a level playing field for spouses in mediation discussions. Active mediators, while they do not advocate for a less assertive spouse, are like eagle-eyed referees—they keep the discussions within bounds, calling out incivility or unreasonable behavior and demands. An active mediator uses knowledge of the law to encourage couples to reach fair agreements, and they function as financial educators and financial mediators, helping couples to see their financial decisions in factual terms. This can limit the effects of the power dynamics that a couple brings to mediation.
How are divorce documents filed in a mediated divorce in Worcester County?
As a divorce mediation lawyer, I prepare all of your court documents–you do not fill out any court forms.  You simply sign the court documents and mail them to court in the stamped, addressed envelope I provide.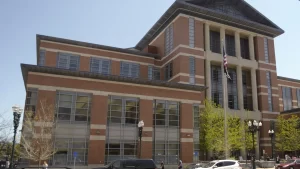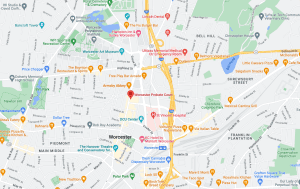 The Worcester Probate and Family Court address:
225 Main St, Worcester, MA 01068
If you have questions about your case, you can call the court (508-831-2200) or Zoom with them. I have found Worcester County court clerks to be more helpful over Zoom than on the telephone. You can Zoom with a clerk M-F between 8:30am and 4pm at: https://www.zoomgov.com/j/1614383173
Worcester uses the same MA divorce forms as required by all other counties in MA, with one exception. If you have children under 18, they sometimes request a Department of Children and Family affidavit (DCF Form.doc9/5/2008), which documents whether DCF or Juvenile Court has any cases involving the children. This form duplicates functions from the form used by all state courts (including Worcester), the Affidavit Disclosing Care or Custody Proceedings.
Your divorce hearing (10-15 minutes long) will be with one of the following Worcester County Family and Probate Court judges:
Honorable Kathryn Bailey
Honorable Frances Giordano
Honorable Leilah Keamy
Honorable Jennifer Melia
Honorable Roxann Tetreau